Garmin Vivosmart Review
Garmin vivosmart is one of those trackers that make you feel you have it all in one bracelet. Fitness trackers have different features between one and another, you might find a tracker that track your fitness but not your sleeping. Or vibrates for notification but not showing a preview. However, the Germin vivosmart has it all in one bracelet. The vivosmart is designed to active people who want to track down their activities and also want to be able to receive notifications when texted or emailed. This fitness tracker has more features than a simple tracker; you could say that it's in a way a smartwatch too. As it gives you the convenient feeling of monitoring your exercise while exercising without loosing the connection with your smartphone. The Garmin vivosmart counts your steps, distance, and calorie burned. You can also track your own personal goals and monitor your achievements. What is so cool about the vivosmart is that it warns you whenever you have a period of time that you spent inactively. The vivosmart is very light and comfortable band that comes it two sizes; large and small and colored in black from the outside and other colors in the inside.
VivoSmart Features
• Displays and counts steps taken, distance and calorie.
• Displays the date and time
• Monitor your rest and sleeping time
• Smart Notification; vibrates when a text, call and email is received
• Sleek OLED touchscreen; the band has a hidden OLED touchscreen that comes to life with a double touch
• Inactivity alerts; that reminds you to be active and move around
• Personal Goals; to keep you motivated and challenged
• Water Resistant to 50 m (165 ft); which means you can shower, swim and wash up wearing it.
• Unique slim design, with a bit sporty feeling to it.
• It comes in a black color in its outer design, and a range of colors for the inside part.
• Battery life; up to 7 days
• VivoKeeper: a security slider to secure the band and make sure it won't fall during exercises.
• Silent alarm feature; vibrates to wake you up
Display screen
A unique hidden OLED display that comes to life whenever you double touch it, or if you received a call, text or email notification. The display shows your steps, distance traveled, calories burned, time of day and more.
Smart Notification
The garmin vivosmart vibrates whenever you receive a phone call , a text or email and displays the information. If you want to read more you can simply touch and swipe the screen
Active and Inactive time
The vivosmart does not only track and monitor your activities, but it also track and remind you if inactive period has occurred. The band vibrates after one hour of inactivity to remind you to be active and move around. The band reset the inactivity timer once you make any effort by exercising or walking around
Personalized Goals
The vivosmart learn about your current status and try to challenge you with attainable daily goals. Once these goals are achieved, the vivosmart adjust your goal for the next day. You can also share your achievement through Garmin Connect and earn virtual badges.
Media Control
Another feature of the garmin vivosmart is the ability to control your music player through the band. You can stop and start a track, skip track or adjust the volume.
Find my phone
Another feature in the vivosmart is the Find My Phone option. If you pressed on that option on the band, will cause your phone to beep repeatedly.
Sensor Compatibility
The vivosmart can be paired with other tracking devices such as ; the heart monitor chest strap, bike speed sensor or VIRB Elite action camera (1080p HD Action Camera with Wi-Fi, GPS) for fitness activities.

Automatic Syncing
The vívosmart automatically sync the information with your connected device via Bluetooth. And you can view the data and analyze them through the application Connect, the app is available for both ios and android. You can analyze your data, set new goal, and join the online community to compare yourself with others or have a challenge with them and keep yourself motivated.
For more details see – Garmin Vivosmart – Black (Large)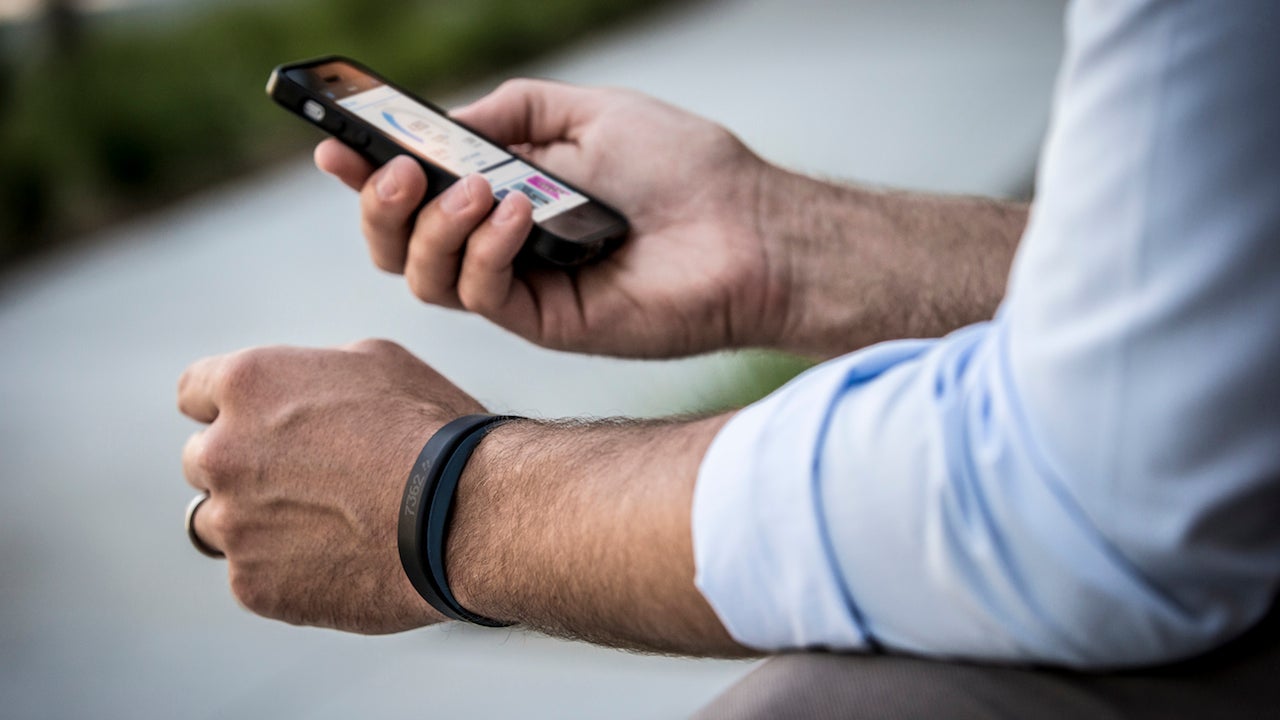 At the end, we have presented all the awesome features of the Garmin Vivosmart band, but still the vivosmart is not a perfect band. To sum up, here is what we think the cons and pros of the band.
Cons and Pros
What is good about the vivosmart is that it is a great activity tracker that monitors the steps, distance and calorie. It also displays notification from your smartphone. Also, its sensors compatibility allows it to connect with other devices such as the heart rate monitor strap. However, the bad things about the Garmin vivosmart is that the sleep tracking is not automated; which means you have to log on and off your sleeping time, therefore, it is not very useful to track and analyze your sleeping. Also, Vivosmart lacks the built-in heart-rate monitor, which means you have to buy the additional heart rate strap.
Frequently asked questions
Will this devise register heart rate? Or do you have to be wearing the accompanying heart rate strap?
The Garmin vivosmart is not designed to monitor the heart rate, however, the vivosmart gives you additional features. You can pair your band with a heart rate strap to register and monitor your heart rate.
How can I monitor and analyze my progress?
Well, when it comes to checking your data, there are two ways to do so; either via the band on the touchscreen or through Connect app. The band automatically syncs all your information wirelessly to the application.
Does it turn off the activity tracking once a call or text received?
No, the activity tracking is not affected by receiving any notification. It will simply display the notification while keeping tracking of your activities.